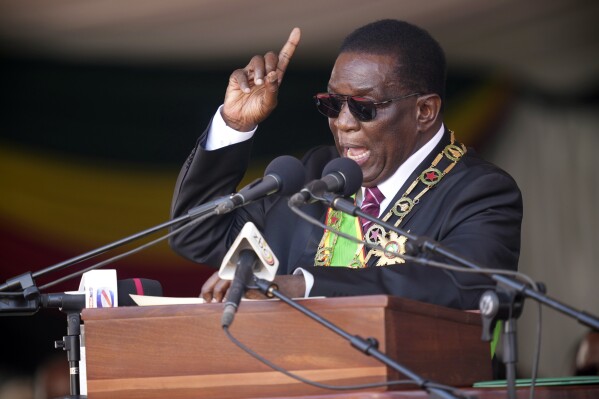 1 of 10 |
Zimbabwe's President Emmerson Mnangagwa delivers his speech during his inauguration ceremony at the National Sports Stadium in the capital Harare, Monday, Sept. 4, 2023. Mnangagwa Monday hailed recent elections as a sign of the country's "mature democracy" and a victory over Western adversaries, as he took an oath of office following polls whose credibility was questioned by multiple observer missions, including those from Africa. (AP Photo /Tsvangirayi Mukwazhi)Read More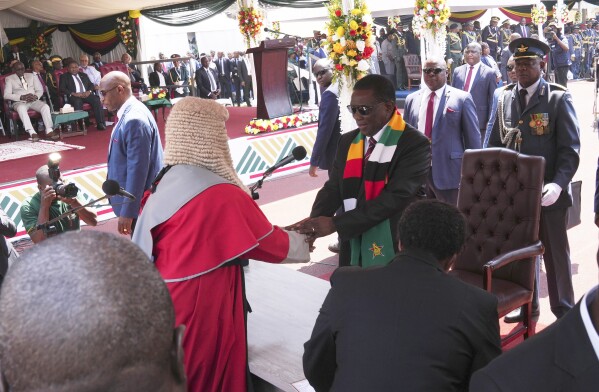 2 of 10 |
Zimbabwe President Emmerson Mnangagwa takes his oath, during his inauguration ceremony at the National Sports Stadium in the capital, Harare, Monday, Sept. 4 2023. Mnangagwa won a second and final-five year term in another disputed poll in the politically and economic troubled southern African nation. (AP Photo /Tsvangirayi Mukwazhi)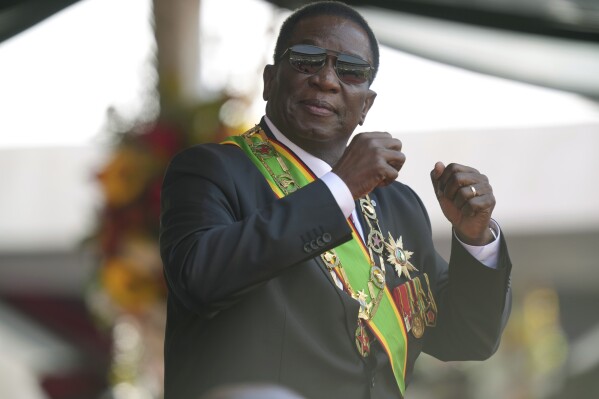 3 of 10 |
Zimbabwe President Emmerson Mnangagwa gestures during his inauguration ceremony at the National Sports Stadium in the capital, Harare, Monday, Sept. 4 2023. Mnangagwa won a second and final-five year term in another disputed poll in the politically and economic troubled southern African nation. (AP Photo /Tsvangirayi Mukwazhi)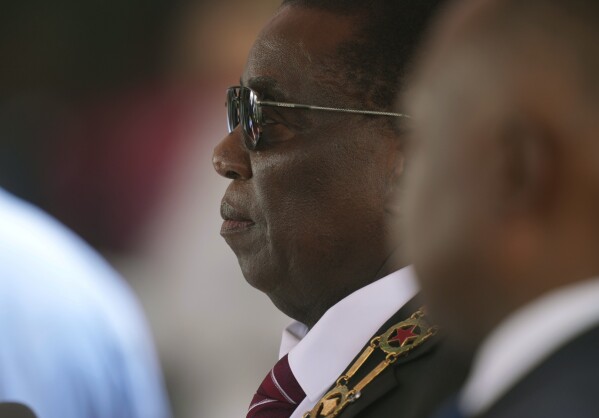 4 of 10 |
Zimbabwe President Emmerson Mnangagwa takes his oath, during his inauguration ceremony at the National Sports Stadium in the capital, Harare, Monday, Sept. 4 2023. Mnangagwa won a second and final-five year term in another disputed poll in the politically and economic troubled southern African nation. (AP Photo /Tsvangirayi Mukwazhi)
5 of 10 |
Zimbabwe President Emmerson Mnangagwa, left, greets Mozambique President Filipe Nyusi during his inauguration ceremony at the National Sports Stadium in the capital Harare, Monday, Sept. 4, 2023. Mnangagwa Monday hailed recent elections as a sign of the country's "mature democracy" and a victory over Western adversaries, as he took an oath of office following polls whose credibility was questioned by multiple observer missions, including those from Africa. (AP Photo /Tsvangirayi Mukwazhi)
6 of 10 |
Zimbabwe's President Emmerson Mnangagwa greets other heads of states during his inauguration ceremony at the National Sports Stadium in the capital Harare, Monday, Sept. 4, 2023. Mnangagwa Monday hailed recent elections as a sign of the country's "mature democracy" and a victory over Western adversaries, as he took an oath of office following polls whose credibility was questioned by multiple observer missions, including those from Africa. (AP Photo /Tsvangirayi Mukwazhi)
7 of 10 |
Zimbabwe's President Emmerson Mnangagwa takes his oath during his inauguration ceremony at the National Sports Stadium in the capital Harare, Monday, Sept. 4, 2023. Mnangagwa Monday hailed recent elections as a sign of the country's "mature democracy" and a victory over Western adversaries, as he took an oath of office following polls whose credibility was questioned by multiple observer missions, including those from Africa. (AP Photo /Tsvangirayi Mukwazhi)
8 of 10 |
Zimbabwe's President Emmerson Mnangagwa greets other heads of states during his inauguration ceremony at the National Sports Stadium in the capital Harare, Monday, Sept. 4, 2023. Mnangagwa Monday hailed recent elections as a sign of the country's "mature democracy" and a victory over Western adversaries, as he took an oath of office following polls whose credibility was questioned by multiple observer missions, including those from Africa. (AP Photo /Tsvangirayi Mukwazhi)
9 of 10 |
10 of 10 |
South African President Cyril Ramaphosa, left, talks to Zimbabwe's Defence Minister Oppah Muchinguri during Zimbabwean President Emmerson Mnangagwa's inauguration ceremony at the National Sports Stadium in the capital Harare, Monday, Sept. 4, 2023. Mnangagwa Monday hailed recent elections as a sign of the country's "mature democracy" and a victory over Western adversaries, as he took an oath of office following polls whose credibility was questioned by multiple observer missions, including those from Africa. (AP Photo /Tsvangirayi Mukwazhi)BY FARAI MUTSAKAUpdated 3:58 PM BST, September 4, 2023Share
HARARE, Zimbabwe (AP) — Zimbabwean President Emmerson Mnangagwa on Monday hailed recent elections as a sign of the country's "mature democracy" and a victory over Western adversaries, as he took an oath of office following a vote whose credibility was questioned by both Western and African observers.
Mnangagwa, 80, won disputed polls held on Aug. 26, garnering 52.6% of the vote ahead of main opposition leader Nelson Chamisa's 44%. His ZANU-PF party, which has ruled the tiny nation of 15 million people since independence from white minority rule in 1980, also retained a parliamentary majority.
"There are no losers but victory for the people of Zimbabwe against the neo-colonial tendencies of our country's detractors and those who believe that might is right. … We have shamed our detractors," he said before jubilant supporters, many of them bussed to pack a 60,000-seater Chinese-built stadium in the capital, Harare.
ADVERTISEMENT
"Counter revolutionaries and their proxies will never prevail in Zimbabwe," said Mnangagwa, who routinely accuses the opposition of being puppets of the U.S and other Western nations that placed sanctions on the country two decades ago over alleged human rights violations.
The elections are the second since the ouster of longtime autocratic ruler Robert Mugabe in a 2017 coup. Mnangagwa, a close Mugabe ally for years, became president following the coup. He undertook to thaw icy relations with the West after taking power.
He even applied for Zimbabwe to rejoin the Commonwealth, a bloc of mainly former British colonies that Zimbabwe left in 2003 after it became apparent that the organization would extend a suspension imposed a year earlier following elections marred by allegations of violence and rigging.
But criticism over his rule by the West has seen Mnangagwa strengthening ties with traditional Mugabe allies such as China and Russia. He hosted Iran's president Ebrahim Raisi in July, months after a visit by Belarusian President Alexander Lukashenko, and talked up coalitions against U.S sanctions.
Mnangagwa also won disputed presidential elections against Chamisa in 2018. The country's constitutional court rejected Chamisa's challenge of the election result.
The 45-year-old opposition leader did not approach the court this time despite describing the poll as a "blatant and gigantic fraud" and calling for fresh elections supervised by the country's neighbors.
Observers from regional blocs the Southern African Development Community and African Union as well as the Carter Center and the European Union said that although voting day was largely peaceful, an atmosphere of intimidation had characterized the runup to the polls.
Mnangagwa did not directly address Chamisa's concerns or those of the observers during Monday's speech, but he described the elections as "peaceful, free, fair, transparent and credible" and criticized Western sanctions as "illegal" and "heinous."
Credible elections were viewed by many as a key step toward ending Zimbabwe's international isolation and setting the stage for the recovery of a once prosperous economy in a country with rich agricultural land and vast mineral resources.
Zimbabwe has Africa's largest deposits of the highly sought-after battery mineral lithium that has attracted interest from China.
Mnangagwa in his inauguration speech promised to use the country's minerals that include gold and diamonds to drive economic growth. He touted developments in roads and dam construction and a rebound in the agricultural sector as evidence of his record.
A carnival atmosphere engulfed the stadium, with thousands dressed in the ruling party's green, yellow and red colors dancing to live music. Helicopters and planes from the country's air force flew in formation and neatly dressed security forces slow marched, among other displays that included a 21-gun salute. The presidents of Mozambique, South Africa and Congo attended the event.
But the situation was muted in much of the capital, Harare, an opposition stronghold where street vendors teemed the streets. About two thirds of the country's working age population survives on informal trade such as street hawking after the collapse of many formal industries over the past two decades, according to the International Monetary Fund.
Mnangagwa promised a new era of freedom, democracy and economic prosperity after replacing Mugabe, yet many say they don't see much change.
"There is nothing to celebrate, it's going to be another five years of suffering and repression," said Onismo Mweda, pushing a cart from where he sold fruits and vegetables in the capital's central business district.